Ninety-seven percent of all U.S. farms are family-owned farms, according to the USDA. It's a rarity for people from outside the ag industry to take an interest in farming or dairy, and when they do, it takes a lot of work to break into the industry and put down roots.
Despite the odds, Nick Woldt and his wife, Maria, both pursued careers in the industry and operate a 55-cow dairy in Sun Prairie, Wisconsin.
Nick gained an interest in the dairy industry during occasional visits to his stepfather's cousin's dairy farm. After graduating high school, he worked on the farm for the summer and decided he really liked it. After two years of working in a factory and warehouse, Nick decided to take his passion for dairy and rise to the next level. After completing the University of Wisconsin Farm and Industry Short Course, he spent a few years working for local dairymen to get a handle on what it would take to make it in the business.
During this time, Nick met Roger and Becky Weisensel, an older couple who wanted to start transitioning out of the dairy industry. They came up with an arrangement that worked for both of them. Nick would start to work for them and get more experience on the farm. Then over time, he would take over management of the dairy.
Nick began working for the couple on Nov. 1, 2003. After about two years, he bought 25 percent of the cows and steadily added more until he owned the entire herd. After buying the herd, he started on the machinery. "I own pretty much all the things you need to take care of the cows," he says. He still rents the buildings from the Weisenels and buys most of his feed through them.
Nick has also made some changes since he took over management of the farm.
He added more freestalls, built another hay shed for feed and bedding storage, installed fans in the barn, transitioned from silo to bag storage and started feeding a TMR.
Nick has also gotten every single cow in the operation registered through the Holstein Association. "When I bought into the herd, they were grade [unregistered] Holsteins, so as I bought the herd, I registered them through the Holstein Association." To do this, Nick had to go back and find the birth records of every cow. "It was a lot of work to go back and find all the sires and dams and birth dates. I had a lot of bookwork I had to do with that," he says. "The Holstein rep helped me out tremendously."
Nick says he has been able to make the financial end of the transition work through very careful and conservative spending. "With feed costs the way they are and having to buy a majority of my feed, you really have to watch every dollar that goes out and you have to be conservative," he says. "On the other end, I feel you've really got to put a lot of effort into taking care of the cows." He says cow comfort and nutrition are high priorities for him. "I want to make sure that everything I give the cows, they're going to do well with," he says. "I take care of the cows, the cows take care of me."
Maria grew up in urban Saint Paul, Minnesota, showing horses as a hobby. She saw the dairy cows at the state fair and other shows and became interested in them. "The Minnesota State Fair has a pretty robust agriculture exhibit, so when I would be there for the horse show, I would see all the FFA and 4-H exhibits, and it piqued my interest," she says.
Although she didn't have the opportunity to participate in any ag programs during high school, Maria decided to study the field when she went to college. "When it came time to pick colleges, I looked for a school with an agriculture program, not even really knowing what that meant," she says. Maria completed her bachelor's degree in agriculture marketing at the University of Wisconsin – River Falls then moved to University of Wisconsin – Madison to earn her master's degree.
"I really wasn't taken very seriously by my peers that grew up on farms with a 'She didn't grow up on a farm – what does she know?' kind of attitude, so that was hard, but it only motivated me to work harder and learn more," says Maria.
Maria's first job out of graduate school was working for World Dairy Expo. She says her non-dairy background actually helped her in this case. "They needed somebody to focus on sales and focus on the trade show," she notes. That area happened to be her expertise.
Today, Maria works for the Wisconsin Dairy Business Association as director of industry relations, but she also pulls on her boots to help Nick on the farm as often as possible.
The Woldts agree that while making their dream happen has taken a lot of work and patience, the waiting is worth it. "You put in a lot of hours and you do a majority of the work, and it's long days, but it's very rewarding," Nick says. "I get a lot out of it, but it's very challenging."
As if their own passion for the dairy industry wasn't enough of a sign that they belong in it, the Woldts just welcomed their first baby, a little girl, and named her Lexington, after a cow.
"That's a funny story," Maria says. "When Nick and I first started dating, we spent the day at World Dairy Expo, and we were walking around the barn and were looking at the Rosedale Holsteins exhibit, and they had a really nice show cow named Lexington, and we both looked at each other – and we'd only been dating each other for a month – and said, 'Oh, that would be a really great baby girl's name.' So our daughter Lexington is, technically, named after a cow."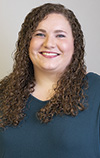 Carrie Veselka

Associate Editor
Progressive Dairyman
PHOTO: Nick and Maria Woldt operate a 55-cow dairy, and Maria also works as the industry relations director for the Dairy Business Association. Neither grew up on a dairy, but both found their true calling in the industry. Photo provided by Nick and Maria Woldt.